Advanced protection for authentication of your users.
Free extension for Cloudflare.
Easy deployment, just install the worker in your Cloudflare dashboard!
How Cloudflare's worker acts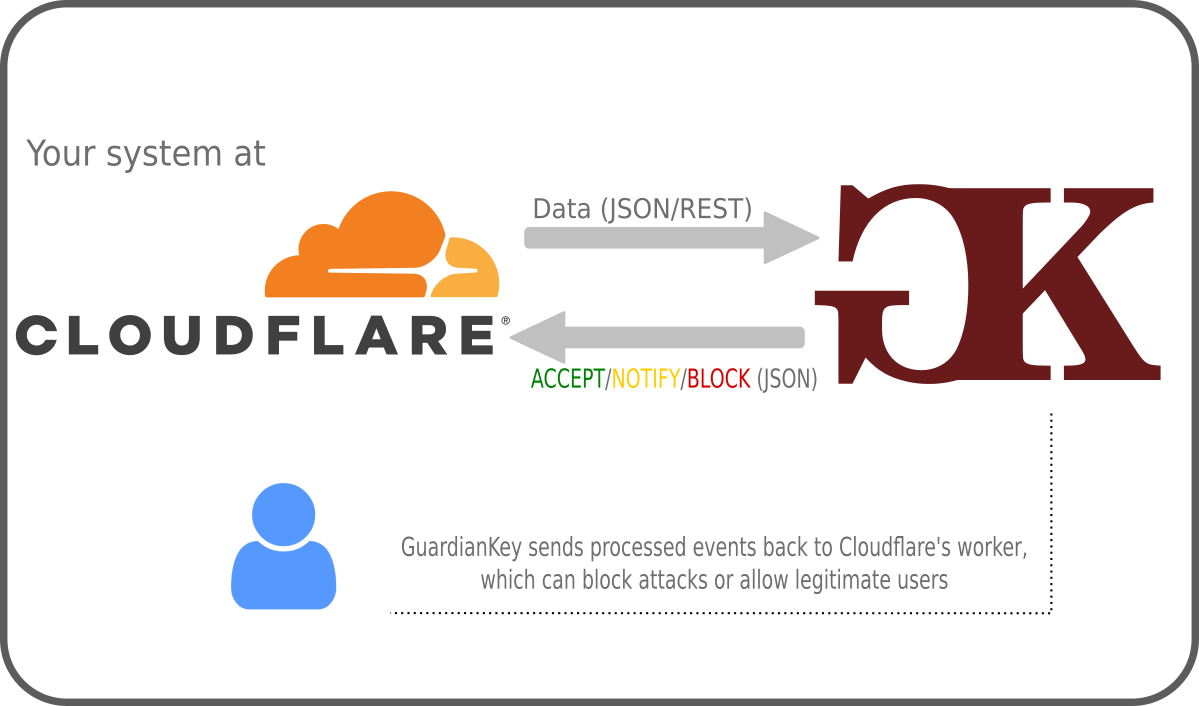 The script (worker) runs on Cloudflare. It intercepts the authentcation attempts to your web application. Such events are sent to GuardianKey's engine for processing.         
GuardianKey returns a risk level and a suggested action (ACCEPT, NOTIFY, HARD-NOTIFY, or BLOCK).         
Medium risk accesses are notified, so the user can analyze access to their account, so they can tell if the attempts were legitimate or not.         
High risk access is automatically blocked by GuardianKey.
Protect against attacks
Brute force
Innovative brute force detection method.
Account takeover
Contextual and behavioral data are used to identify users.
Automated attacks
Threat intelligence, contextual and behavioral data are used.
Anonymization
Anonymization proxies are listed in the threat intel database.
Credential stuffing
Block authentication attempts even if the password matches.
Password guessing
Approach to detect and block password guessing.
Procedures to deploy the worker, in video
Deploying the Worker
The source code is available at GitHub, you have just:

Create an account at GuardianKey, here.

Insert the worker and configure it in the Cloudflare's dashboard.

Test and enjoy it!

Details of the procedures are docummented at worker's page.
Using the extension
Resources
Special Cloudflare user plan: Free in our cloud for up to 100 users!

Check out real-time access to your web application from the GuardianKey dashboard